Last week we wrote about the webshop No Man Walks Alone here on our site. This as part of a series where we thought to share with you a few personal favorites in various fields. Today's text continues on the theme of web shops and a triple. Today I want to mention my three personal favorites when it comes to more free fashion.
Unlike last week, when the store was based in the US, with all that implies, today's stores all based in the UK, namely Northern Ireland, Scotland and England, called The Bureau Belfast , Kafka Storeand End Clothing . The style of them all is quite similar with a free fashion with a mix of British craftsmanship, American worker wear, Scandinavian design and Japanese streetwear. To get a feeling you can imagine more nitty gritty and Paul & Friends in Stockholm than Gabucci and Lund & Lund.
A common denominator for all of the stores is that they all started as physical stores with high ambitions when it comes to service and selection. Their sides are all very professionally structured and clear in its communication to strive for good service also online.
End Clothing started out as a fashion boutique in Newcastle in 2005 with great aspirations to dress northeast England in modern free fashion. Gradually they grew now has two shops in the city and an incredibly extensive webshop. Their sale usually really popular every season. Some of all the brands sold are: APC Alden, Barbour and Barbour's hyped White Mountaineering, Beams Plus, CP Company, CHUP socks, Common Projects, Cutler & Gross, Filson, Dries Van Noten, Maison Kitsuné, Mark McNairy, MoScot, Nanamica, New Balance, Orlebar Brown, Sunspel, Thom Browne and others.
Kafka
Kafka started in 1990 in the Scottish Aberdeen by brothers David and Russell Cameron. Today, the two stores and is aimed at both men and women. The concept since inception has been excellent service and great brands. Something they also tried to take on to their web shop. Their range is free but slightly more dressy than the other two stores in today's triple. Some of the brands sold are Aspesi, Incotex, Stutterheim, Boglioli, Barbour (Barbour and interesting collaboration with the tailor Norton & Sons), Inis Meain, The Gigi, Church's, Oak Street Boot Makers, Vlaextra, Zanone, Quoddy, WANT Les Essentiels others.
The Bureau Belfast
This interesting shop from Belfast in Northern Ireland started in 1989. The founders say that they shaped by the conflicts in the city and soon took his flight to the music, fashion and culture to find their identity. They have become influential when it comes to fashion in Belfast and the press that they still assume all individuals' unique ability to express themselves through fashion. Some of the interesting brands that are sold are: Alden, Barena, Engineered Garments, Free Rain, Gitman Vintage, Nigel Cabourn, Oliver Peoples, Patagonia, SNS Herning, Trickers, Yuketen others.
Gallery
Die besten 17 Ideen zu Für Mollige auf Pinterest
Source: de.pinterest.com
L'instant mode : la campagne de Noël de Topshop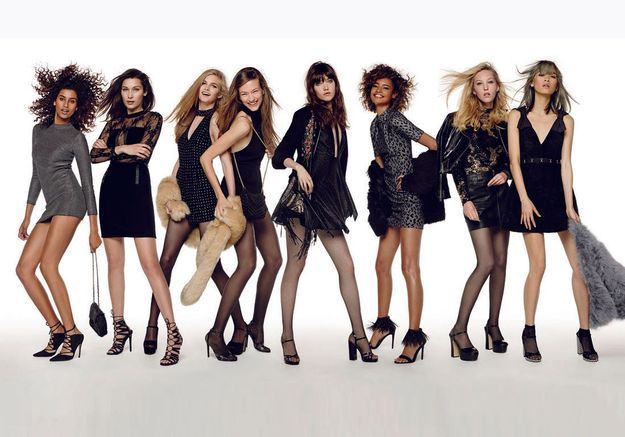 Source: www.elle.fr
Die besten 17 Ideen zu Mode Für Frauen auf Pinterest …
Source: de.pinterest.com
Новости | Стиль | Pinterest
Source: www.pinterest.de
Plus Size Fashion: Chic and Curvy Boutique
Source: www.pinterest.de
17 meilleures idées à propos de Robe Des Années 1930 sur …
Source: fr.pinterest.com
Keira Knightley & James Righton from La photo du moment
Source: www.pinterest.fr
17 meilleures idées à propos de Combinaison Femme sur …
Source: fr.pinterest.com
Look fille WAY by IKKS : robe Hiver 15 #FW15 #GirlsFashion …
Source: www.pinterest.com
MODE
Source: samanthasurplie.book.fr
Les 25 meilleures idées concernant Manteaux D'hiver Pour …
Source: fr.pinterest.com
17 meilleures idées à propos de Veste À Carreaux sur …
Source: fr.pinterest.com
Les 25 meilleures idées de la catégorie Années 70 mode …
Source: fr.pinterest.com
Épinglé par Melly fefzic sur style♥
Source: www.pinterest.fr
Les 28 meilleures images du tableau ☆ Thème Gatsby …
Source: www.pinterest.fr
17 meilleures idées à propos de Cuissarde Daim sur …
Source: fr.pinterest.com
Pin von Candy White auf mein style | Pinterest
Source: www.pinterest.de
Les 25 meilleures idées de la catégorie Années 70 Mode …
Source: fr.pinterest.com
Mode für mollige junge Damen
Source: www.pinterest.at
#mode #enfant #kids | BOUT'CHOU: ENFANT ET BÉBÉ
Source: www.pinterest.com